Dairy Sector Study Bangladesh
VetEffecT executed a Dairy Sector Study for the RVO (Netherlands Enterprise Agency) in Bangladesh in 2022-2023
The main livestock products consumed in Bangladesh are cattle and buffalo milk, ruminant meat, and poultry meat and eggs. The demand is growing rapidly due to increasing population and higher incomes with the corresponding shifting of diets towards animal protein. Although the domestic production of livestock products is growing, it is not keeping up with the increase in consumption, resulting in rapidly growing deficits and livestock source food to play more a critical role in improving nutritional status. Unlocking the growth potential of livestock and specifically dairy will require addressing challenges. The study mapped the livestock dairy sector (milk & meat) in Bangladesh, its key actors and linkages, trends, issues, challenges and (business) opportunities.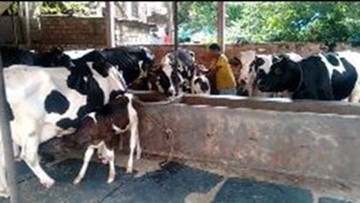 The services provided were:
Provide to-the-point details for Dutch companies and institutes active in the dairy value chain to elevate the dairy sector of Bangladesh through investments and/or knowledge and technology, and;

Provide further insight and pave ways for interventions to support relevant supervisory, facilitating and regulatory bodies and key chain actors in Bangladesh;

Identify incentives and opportunities available to attract foreign investment in Bangladesh;


Identify relevant laws, regulations and policies that are important to know for foreign investors;

Conduct fact finding mission and organise a dairy stakeholder workshop.



The overall purpose is to realise growth and development in the dairy sector of Bangladesh in a sustainable and responsible manner.
The final report was announced on the

RVO website

from the ministry of agriculture
and can be downloaded from the following
HERE