In this first tier of the training, international experts trained staff from the Animal Wealth Laboratories in Amman on the subject matter and on training methodologies:
Ten staff of the Jordan Veterinary Services were trained:
a.
On sampling and sample submission of suspected cases of Anthrax, Brucella, Rabies, Crimean Congo Haemorrhagic Fever (CCHF), Q-fever and highly pathogenic avian influenza (HPAI) H5N1 to regional or national or international laboratories;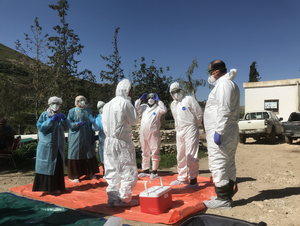 b. To act as trainers to deliver training to lab technicians and local veterinary field staff on:
Recognizing the infectious diseases mentioned above;




Sampling suspect cases of these infectious diseases;




Processing of samples/transport to national reference lab;




Receiving and handling hazardous samples;




Archiving of submitted samples;




Biosecure disposal of test materials

.





National laboratories were equipped with a minimum sample set of materials to receive, handle, archive and forward hazardous samples to international reference laboratories.